Environment for Research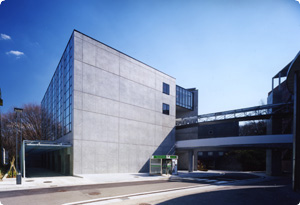 Building no.12
Constructed concurrently with the establishment of the Graduate School, the building consists of the following facilities:
---
1st FLOOR
ZOKEI Gallery(12-101)


The gallery is used as an exhibition space for students of both Major in Design and Fine Arts and temporary exhibitions.





Atelier A(12-102)


Students specializing in Sculptures in the Major in Fine Arts use this atelier for their research and practices.





2nd FLOOR
Lecture Room (12-201)


Cross-listed courses for both majors in Design and Fine Arts are mainly conducted here. The room also has other functions as classrooms for special courses conducted by invited speakers, workshops, and space for students to present the research progress and works.





Atelier B(12-202)

This atelier is used primarily as a shared work-space for students of both Design and Fine Arts majors. Practical Fine Arts and Design courses are also conducted here.





3rd FLOOR
Design Room & Design Studio(12−301,303)



These are the primary research spaces for students of the Design major. There are terminals for each desk where students can freely study using their own laptops.





Computer Lab(12-302)


This is a work-space with 20 computers for all students to freely use.